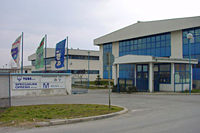 Company "SPECIJALNA OPREMA - Lučko" (translates as SPECIAL EQUIPMENT – Lučko) within its core activities, develops, constructs, manufactures, installs, services, tests and calibrates equipment for gas, oil, petrochemical and general process industries.

Company started it's development in the year 1951 as part of "Petroleum Institute-Zagreb" and after passing many of the reorganization, integration and disintegration ("Industroprojekt", "INA project", "INA Special Equipment") and after the conversion in 1997, until today, the company "SPECIJALNA OPREMA - Lučko" operates as a fully independent enterprise.

With the assistance of approximately 50 highly specialized and skilled workers and permanent subcontractors, the company "SPECIJALNA OPREMA - Lučko d.o.o." products and services the full range of products used in gas and oil industry.

Also, in the company, there are four laboratory-testing stations with all necessary authorizations from the relevant state institutions:
inspection and adjustment of safety valves EN ISO/IEC 17020
calibration of flow meters and excess flow valves (Q <3000 l / min)
calibration of gas meters and volume correction devices (Q <10000 m3 / h) EN ISO / IEC 17020
Flow and pressure characteristics inspection for valves and regulators
calibration of tank trucks metering systems
These laboratory-testing stations are necessary for the control of our own manufactured equipment and have the status of "authorized services" on approval of Croatian "State office of Metrology".