The PDF document below provides detailed information for this product
Pneumatic gate valve type PBZ

DN 2" - 4"
class 600, 900, 1500, 2500, 3000lb
pmax 210 (350) bar
t -20°C / +90°C
acceptable media oil, petrol, non-agresive fluids and gases
connections API 6A-6B, ANSI B 16.5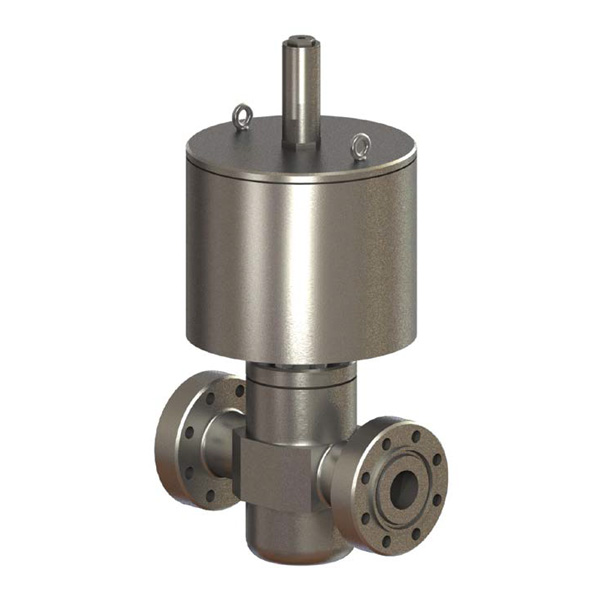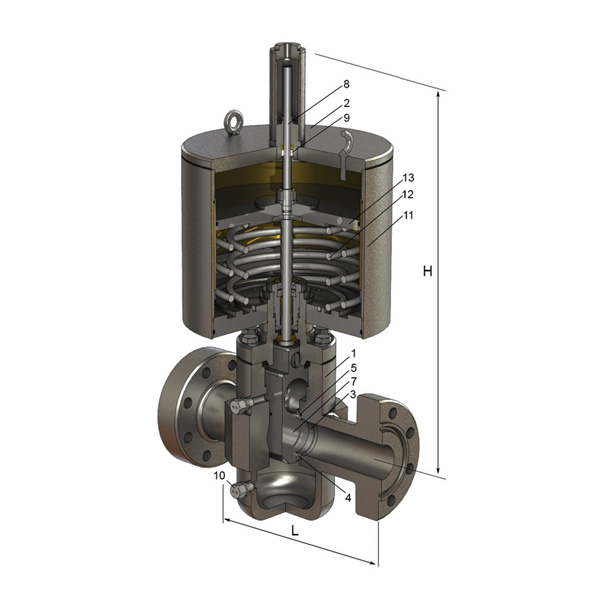 APPLICATION
PBZ gate valve offers superior performance and reliability over conventional valve designs in a variety of difficult applications and generally not used in clean media where conventional valves are sufficient. It is used in used for flow isolation as well as throttling/control duties in a limited way.
DESIGN FEATURES
PBZ Valve is a bidirectional gate valve sealing on the downstream gate to seat when placed in the flow stream facing in either direction. It requires pressure from upstream to force the seal of the gate against the downstream seat.The gate of the PBZ valve consists of two pieces (gate and segment) acting one against the other by means of a dual wedge when the valve is either fully closed or fully opened.
The expansion effect of the wedge against the seats, through the parallel faces of the gate, provides a strong and positive seal against pulsations and vibrations created by flow conditions.
Pneumatic gate valve PBZ is an automatic quick-closing valve. Opening is done by instrumental air or gas through an solenoid valve into the area top of the piston. Quick closing is done by the force of the operating medium helped with the force of the spring. The installed spring allows closing also on low pressures of working medium in the valve (0-10 bar).
The spindle is set outside of the actuator cylinder for the indication of the valve position.
ON REQUEST:
- we deliver special device for keeping a valve in an open position without instrumental gas
- installment of open-close magnetic position sensors


APPLIED STANDARDS, CODES & DIRECTIVES
API 6D "Specification for Pipeline Valves"
API 598 "Valve Inspection and Testing"
ISO 14313 "Petroleum and natural gas industries -Pipeline transportation systems -Pipeline valves"
EN 12266-1 "Industrial valves. Testing of metallic valves. Pressure tests, test procedures and acceptance criteria. Mandatory requirements"
94/9 EC (ATEX) "Equipment and protective systems intended for use in potentially explosive atmospheres"
| Pos. | Part name | Material | Standard |
| --- | --- | --- | --- |
| 1 | Body | GP240GH | EN10213 |
| 2 | Bonnet | GP240GH | EN10213 |
| 3 | Seat | P265GH | EN10273 |
| 4 | Seat | PTFE | |
| 5 | "O"-ring | FKM | |
| 6 | Reatainer plate | S355 | EN10277-2 |
| 7 | Gate | 34CrMo4 | EN10083-3 |
| 8 | Spindle | 1.4301 | EN10088-3 |
| 9 | Bonnet seal ring | FKM | |
| 10 | Body grease fitting | 1.4401 | EN10088-3 |
| 11 | Actuator | SPO | |
| 12 | Spring | SH | EN10270-1 |
| 13 | Piston | ENAW6005 | EN573 |
| CODE | DN | class | actuator pressure (bar) | H (mm) | L (mm) | D (mm) | WEIGHT(kg) |
| --- | --- | --- | --- | --- | --- | --- | --- |
| 060901 | 50 (2") | 600lb | 1 - 2 | 710 | 292 | 200 | 75 |
| 060902 | 65 (2.5") | 600lb | 1 - 2 | 850 | 330 | 300/350 | 120 |
| 060903 | 80 (3") | 600lb | 1 - 2 | 1060 | 355 | 300/350 | 145 |
| 061001 | 80 (3") | 3000lb | 3 - 5 | 690 | 435 | 203 (323) | 145 |
| 061002 | 100 (4") | 3000lb | 3 - 5 | 832 | 511 | 242 (457) | 280 |