The PDF document below provides detailed information for this product
Diaphragm Safety relief valve type SVM-P

DN 32 - 100
PN 16
p 150lb
t -20°C / +60°C
acceptable gases natural gas, LPG, air, nitrogen, non-aggressive gasses
connections EN1092, DIN2633, ANSI B 16.5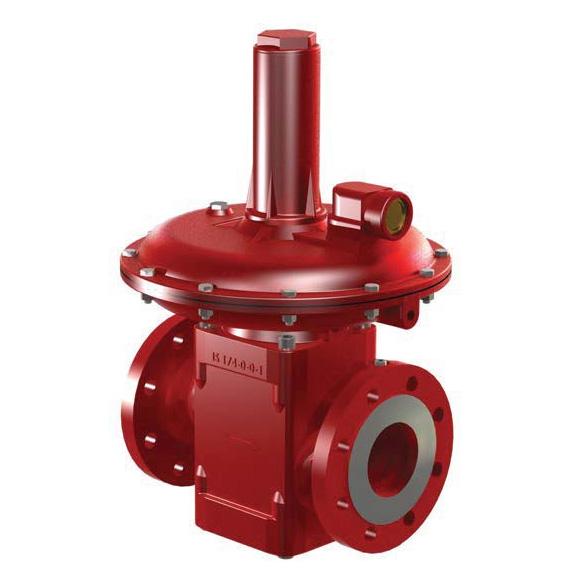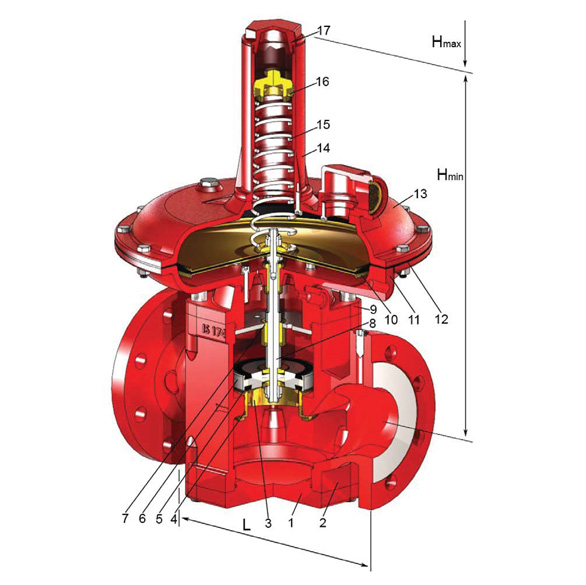 APPLICATION
Safety relief valve SVM-P is used downstream of pressure regulator to relief limited volumes of gas, and to avoid triggering safety shut-off valves.
It's ideal for low pressure and high flow settings due to high sensitivity provided by large diaphragm and flow area.
DESIGN FEATURES
Safety relief valve SVM-P automatically opens and relief limited volume of gas, and automatically closes when pressure normalizes in the system it secures.
Safety valve acts directly according to the developed force, as a result of gas pressure on the diaphragm the set force of the spring is resised. With the adequate increase of pressure, the diaphragm is lowered and with this the plate and therefore the exiting conduit is opened.
TESTING & CALIBRATION
EN ISO/IEC 17025 certified laboratory
APPLIED STANDARDS, CODES & DIRECTIVES
EN ISO 4126-1 "Safety devices for protection against excessive pressure. Safety valves"
EN 12516-3 "Valves-Shell design strenght. Experimental method"
EN 13463-1 "Non-electrical equipment for use in potentially explosive atmospheres. Basic method and requirements"
EN 13463-5 "Non-electrical equipment for use in potentially explosive atmospheres. Protection by constructional safety 'c' "
94/9 EC (ATEX) "Equipment and protective systems intended for use in potentially explosive atmospheres"
| Pos. | Part name | Material | Standard |
| --- | --- | --- | --- |
| 1 | Lid | ENAW6005 | EN573 |
| 2 | Housing | GJS-400-15 | EN1563 |
| 3 | Seat | CW614N | EN12164 |
| 4 | "O" ring | FKM | |
| 5 | "O" ring | FKM | |
| 6 | Plate | S355 | EN10277-2 |
| 7 | Plate guide | S355 | EN10277-2 |
| 8 | Spindle | 1.4301 | EN10088-3 |
| 9 | Binding neck | ENAW6005 | EN573 |
| 10 | Reinforced diaphragm panel | ST02Z275 | DIN59232 |
| 11 | Lower diaphragm housing | ENAW6005 | EN573 |
| 12 | Diaphragm | NBR | |
| 13 | Upper diaphragm housing | ENAW6005 | EN573 |
| 14 | Spring housing | ENAW6005 | EN573 |
| 15 | Spring | SH | EN10270-1 |
| 16 | Adjusting screw | CW614N | EN12164 |
| 17 | Bonnet | ENAW6005 | EN573 |
CODE
DN
L (mm)
L1 (mm)
H (mm)
set pressure (mbar)
8-30 30-140 140-700
D (mm)
WEIGHT(kg)
030101
32 (1 1/4")
180
590
380
200
250
350
12
030102
40 (1 1/2")
200
590
380
200
250
350
16
030103
50 (2")
230
610
400
250
350
450
22
030104
65 (2.5")
290
620
410
250
350
450
24
030105
80 (3")
310
630
420
250
350
450
26
030106
100 (4")
350
650
440
250
350
450
35