The PDF document below provides detailed information for this product
Safety relief valve type SVOP-K

DN 40 - 100
PN 16, 25, 40
ANSI 150lb, 300lb
p 1 - 25 bar
t -20°C / +90°C
acceptable media oil, petrol, natural gas, water, LPG
connections EN1092, DIN2633-2635, ANSI B 16.5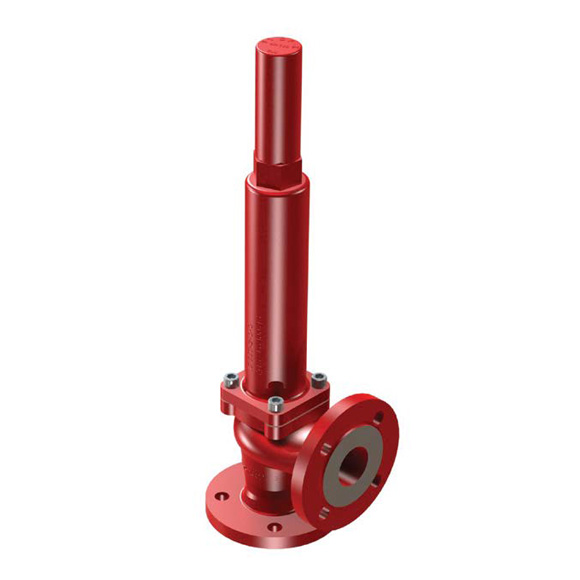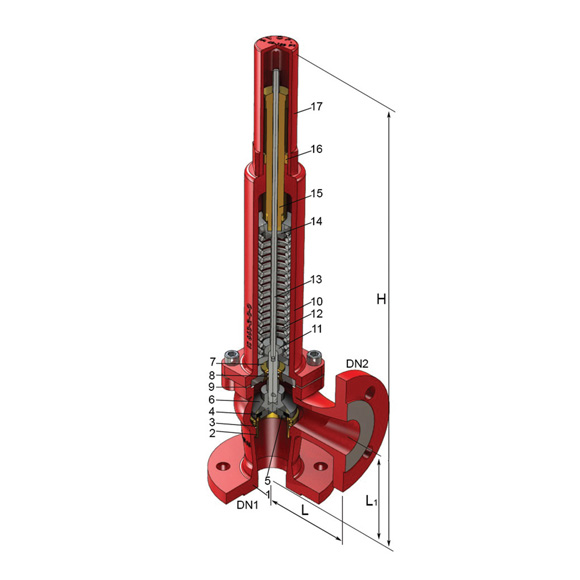 APPLICATION
Safety relief valve SVOP-K is used for relieving pressure of system in which is beeing installed. It's simplicity and reliability makes it perfect safety valve for almost every system or fluid.
Accuracy and valve performance stays permanent even on heavy duty demands. Due to simple design makes it easy to perform service and calibration.
DESIGN FEATURES
Safety relief valve SVOP-K is angled type of valve, with thread end connection for exhaust pipeline. It automatically opens and relief limited volume of gas, and automatically closes when pressure normalizes in the system it secures.
Safety valve acts directly according to the developed force, as a result of gas pressure on the plate the set force of the spring is resised. With the adequate increase of pressure, the seat is lifted up to max. 1/4 seat diameter and with this the exiting
conduit is opened.
ON REQUEST:
- special "PP" design for back pressure applications
- connections specified by customer
- every part can be produce to meet customer specification requirements
- special modification for aggressive media
TESTING & CALIBRATION
EN ISO/IEC 17025 certified laboratory
APPLIED STANDARDS, CODES & DIRECTIVES
EN ISO 4126-1 "Safety devices for protection against excessive pressure. Safety valves"
EN 12516-3 "Valves-Shell design strenght. Experimental method"
EN 13463-1 "Non-electrical equipment for use in potentially explosive atmospheres. Basic method and requirements"
EN 13463-5 "Non-electrical equipment for use in potentially explosive atmospheres. Protection by constructional safety 'c' "
94/9 EC (ATEX) "Equipment and protective systems intended for use in potentially explosive atmospheres"
97/23 EC (PED) "Pressure equipment directive"
| Pos. | Part name | Material | Standard |
| --- | --- | --- | --- |
| 1 | Lower housing | GJS-400-15 | EN1563 |
| 2 | Seat | CW614N | EN12164 |
| 3 | "O" ring | FKM, NBR | |
| 4 | Gasket | FKM, NBR | |
| 5 | Plate | S355 | EN10277-2 |
| 6 | Plate holder | 1.4301 | EN10088-3 |
| 7 | Mid-plate | CW614N | EN12164 |
| 8 | "O" ring | FKM, NBR | |
| 9 | Gasket | tesnit | |
| 10 | Upper housing | GJS-400-15 | EN1563 |
| 11 | Spring plate | S355 | EN10277-2 |
| 12 | Spring | SH | EN10270-1 |
| 13 | Spindle | 1.4301 | EN10088-3 |
| 14 | Spring plate | S355 | EN10277-2 |
| 15 | Adjusting screw | CW614N | EN12164 |
| 16 | Nut | CW614N | EN12164 |
| 17 | Bonnet | GJS-400-15 | EN1563 |
| CODE | DN | L (mm) | L1 (mm) | H (mm) | WEIGHT(kg) |
| --- | --- | --- | --- | --- | --- |
| 030603 | 40 (1 1/2") | 115 | 115 | 601 | 12 |
| 030604 | 50 (2") | 125 | 125 | 611 | 13 |
| 030605 | 65 (2.5") | 145 | 145 | 642 | 20 |
| 030607 | 80 (3") | 155 | 155 | 705 | 31 |
| 030608 | 100 (4") | 175 | 175 | 737 | 35 |