The PDF document below provides detailed information for this product
Safety shut-off valve type SZV

DN 50 - 100
PN 16, 25
ANSI 150lb
pmax 10 bar
t -20°C / +90°C
acceptable media natural gas, LPG, air, non-aggressive gasses
connections EN1092, DIN2633, DIN2634, ANSI B 16.5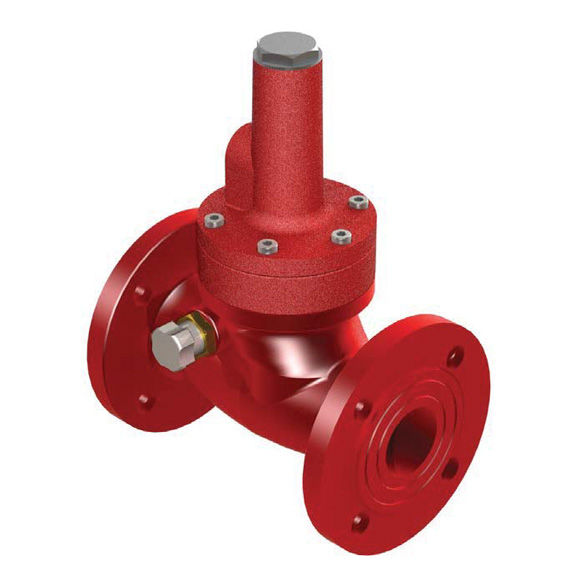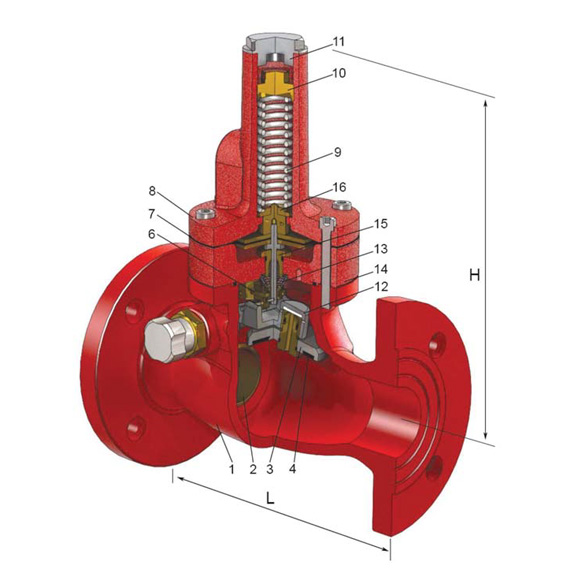 APPLICATION
Main safety device for gas pressure regulating stations. It automatically shut off the gas flow, as soon as the pressure within the system to be protected rises above pre-set limit.
DESIGN FEATURES
The shut-off is effected by the measuring diaphragm which moves into the release position with the lever mechanism disengaging the velve plate to close the main valve seat.
The valve can be re-set by hand only, after the outlet pressure at the measuring point has been decreased to a value lying within the range of the pre-set pressure value.
In order to change the position of the vent and measuring line rotate the diaphragm upper housing to the desired position.
It's not necessary to take of the seal or to reset the valve. The picture shows standard right impementation.

VALVE ACTIVATION (UNBLOCKING)
Positions opened (O) and closed (C) are shown by the arrow on the top of the lever.
When valve automatically block the gas flow it will be in the closed (C) position. Opening (unblocking) the valve is done in the folowing order:
- take off the protective cap
- turn the lever just for a few degrees to the open (O) position, and wait for a few sesond for the pressures to equalize
- continue turning the lever toward open"O" position until the plate is fastened (the click sound)
- gently open inlet and outlet valves on the gas line, and valve is ready to operate
In case the plate does not stay in the open "O" position check the gas pressure, it must be lower then pre-set value stated on the indetification plate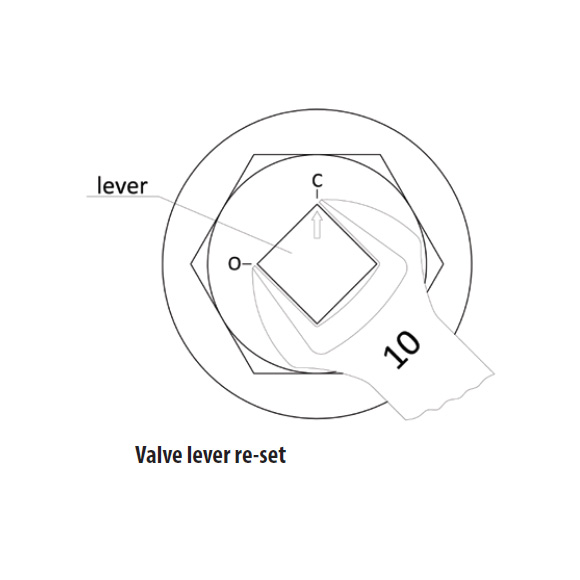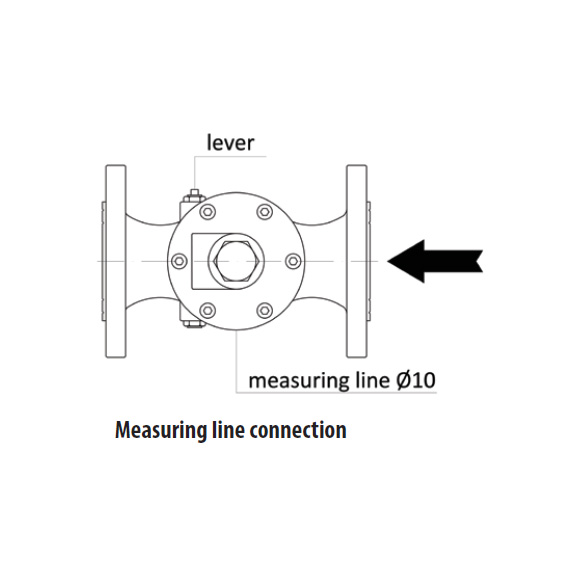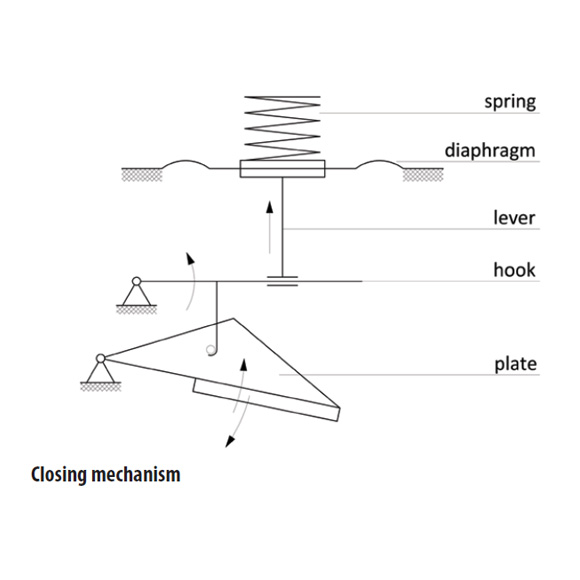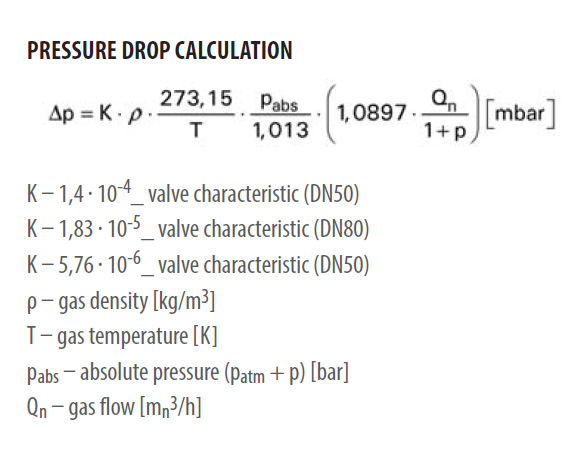 APPLIED STANDARDS, CODES & DIRECTIVES
EN 14382 "Safety devices for gas pressure regulating stations and installations. Gas safety shut-off devices for operating pressure up to 100 bar "
EN 13463-5 "Non-electrical equipment for use in potentially explosive atmospheres. Basic method and requirements"
EN 13463-1 "Non-electrical equipment for use in potentially explosive atmospheres. Protection by constructional safety 'c' "
94/9 EC (ATEX) "Equipment and protective systems intended for use in potentially explosive atmospheres"
| Pos. | Part name | Material | Standard |
| --- | --- | --- | --- |
| 1 | Housing | GJS-400-15 | EN1563 |
| 2 | Seat | CW614N | EN12164 |
| 3 | Plate | CW614N | EN12164 |
| 4 | Seat gasket | FKM | |
| 5 | Torsional Lever | 1.4301 | EN10270-3 |
| 6 | Hook | 1.4301 | EN10088-3 |
| 7 | Diaphragm | NBR | |
| 8 | Diaphragm upper housing | GJS-400-15 | EN1563 |
| 9 | Spring | SH | EN10270-1 |
| 10 | Adjusting screw | CW614N | EN12164 |
| 11 | Lid | ENAW6005 | EN573 |
| 12 | Lever | S355 | EN10277-2 |
| 13 | Conical spring | 1.4301 | EN10270-3 |
| 14 | Diaphragm lower housing | GJS-400-15 | EN1563 |
| 15 | Guide | CW614N | EN12164 |
| 16 | Spring holder | S355 | EN10277-2 |
CODE
DN
L (mm)
H (mm)
d (mm)
set pressure (bar)
WEIGHT(kg)
35-250
210-1800
80-2400
1800-10000
D (mm)
030901
50 (2")
230
255
40
60
30
11.5
030902
80 (3")
310
270
70
60
30
19.5
030903
100 (4")
350
290
90
120
60
30
29.5