The PDF document below provides detailed information for this product
Excess fl ow valve type PLV

DN 1" - 6"
PN 40
ANSI 300lb
pmax 25 bar
t -20°C / +90°C
acceptable media LPG, oil, petrol, water
connections ANSI B 16.5, EN1092, DIN2635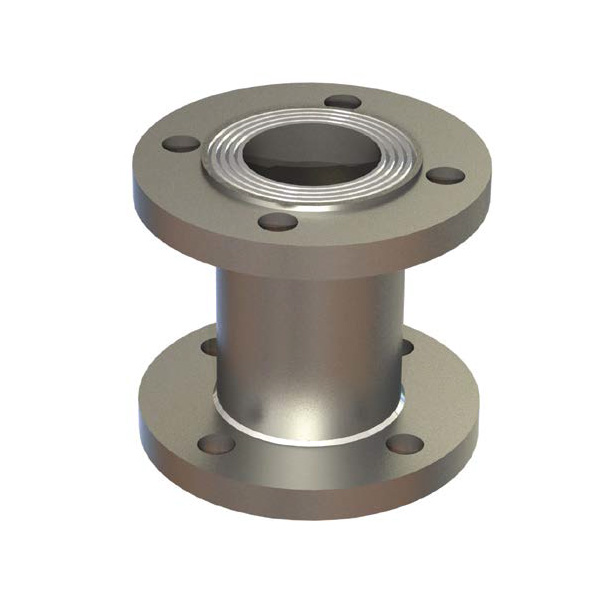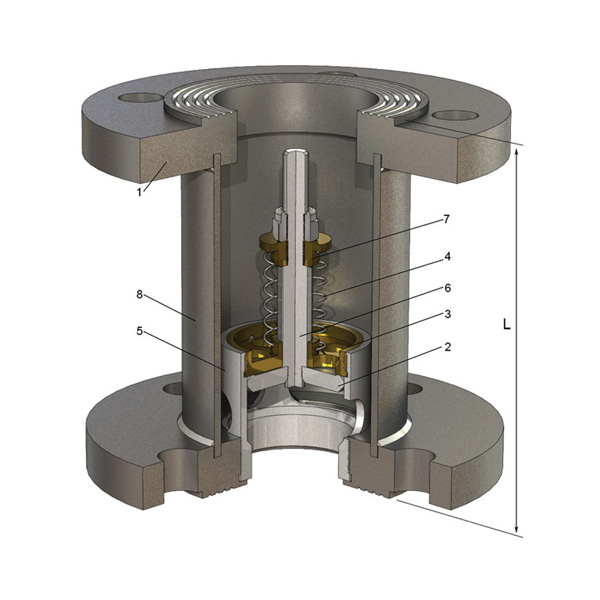 APPLICATION
Designed for installation in distribution and storage lines for preventing uncontrolled leakage into the enviroment, caused
by pipeline damage.
DESIGN FEATURES
Excess flow vale permit the flow of liquid or vapor in either direction. This flow is controled only in one direction.
When, out of any reason the pressure suddenly drops (because of breakage and alike) in the pipeline downstream from the installed PLV, leakage significantly increase in the clearance between the plate and valve center, the force on the valve plate becomes greater then the spring force and the valve is closed. This prevents further uncontrolled leakage of medium into the enviroment. In this way, besides preventing damaging and very dangerous leakage, a fast and undisturbed repair or replacement of the damaged pipeline is enabled.
When the repairs are finalized and all parts of the pipeline are impermeably connected, the gas slowly flows through the small hole in the plate. When the pressures are almost equalized in front of and behind PLV, in a certain moment when the spring is activated, the tray automatically opens. In this way the continued flow of media is established again.
ON REQUEST:
- connections specified by customer
- every part can be produce to meet customer specification requirements
- special modification for aggressive media


APPLIED STANDARDS, CODES & DIRECTIVES
EN 12266-1 "Industrial valves. Testing of metallic valves. Pressure tests, test procedures and acceptance criteria. Mandatory requirements"
94/9 EC (ATEX) "Equipment and protective systems intended for use in potentially explosive atmospheres"
| Pos. | Part name | Material | Standard |
| --- | --- | --- | --- |
| 1 | Connecting flange | A105, P250GH | |
| 2 | Plate | 1.4301 | EN10088-3 |
| 3 | Plate guide | CW614N | EN12164 |
| 4 | Spring | 1.4301 | EN10270-3 |
| 5 | Seat | 1.4301 | EN10088-3 |
| 6 | Spindle | 1.4301 | EN10088-3 |
| 7 | Nut | CW614N | EN12164 |
| 8 | Pipe | P235GH | EN10273 |
| CODE | DN | L (mm) | WEIGHT(kg) |
| --- | --- | --- | --- |
| 060001 | 25 (1") | 100 | 3.2 |
| 060002 | 32 (1 1/4") | 130 | 4.5 |
| 060003 | 40 (1 1/2") | 140 | 6.0 |
| 060004 | 50 (2") | 150 | 7.5 |
| 060005 | 65 (2.5") | 170 | 10.5 |
| 060006 | 80 (3") | 180 | 12.5 |
| 060007 | 100 (4") | 200 | 17 |
| 060008 | 125 (5") | 220 | 23 |
| 060010 | 150 (6") | 290 | 35 |