The PDF document below provides detailed information for this product
Solenoid diaphragm valve type EMMV-P

DN 40 - 100
PN 16
ANSI 150lb
p 0,5 - 12bar
t -20°C / +60°C
acceptable media natural gas, propane, air, water, non-aggressive gasses and liquids
connections EN1092, DIN2633, ANSI B 16.5,
voltage, frequency 230V (±10%), 50Hz
current, power 0,8A, 18VA
protection IP54 (IP65 on request)
switch duration,rate ED 100%, 15/min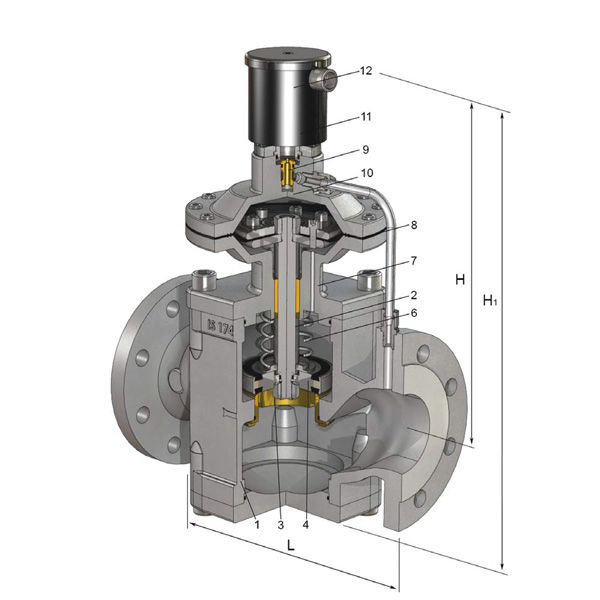 APPLICATION
This is a diaphragm solenoid valve used for securing, limiting, shutting off and releasing medium in high variety of application.
It's recommended that the solenoid and diaphragm is turned upwards.
DESIGN FEATURES
EMMV-P is operated with auxiliary power with diaphragm pre-help, which means that the solenoid drive opens against force of the closing spring only if the diference between valve inlet and outlet pressure is equal or greather than 0,5bar, and closes if power is interrupted. On the bothom lid it has possibility for installment of mechanical sensor for monitoring of closed position of the valve.
It comes in normally closed position, but on request can be altered.
ON REQUEST:
- possibility of AC or DC current 12V, 24V, 48V
- it comes in normally closed (NC) position, but on request can be altered to normally opened (NO)
- normal and ATEX approved design are available


APPLIED STANDARDS, CODES & DIRECTIVES
94/9 EC (ATEX) "Equipment and protective systems intended for use in potentially explosive atmospheres"
| Pos. | Part name | Material | Standard |
| --- | --- | --- | --- |
| 1 | Housing | GJS-400-15 | EN1563 |
| 2 | Spindle | 1.4301 | EN10088-3 |
| 3 | Seat | CW614N | EN12164 |
| 4 | Plate | S355 | EN10277-2 |
| 5 | Spring | 1.4301 | EN10088-3 |
| 7 | Diaphragm housing | GJS-400-15 | EN1563 |
| 8 | Diaphragm | neoprene | |
| 9 | Nozzle | CW614N | EN12164 |
| 10 | Lid | GJS-400-15 | EN1563 |
| 11 | Solenoid coil | SPO | |
| 12 | Elecronical switch | SPO | |
| DN | L (mm) | H (mm) | H1 (mm) | WEIGHT(kg) |
| --- | --- | --- | --- | --- |
| 40 (1 1/2") | 200 | 290 | 360 | 13 |
| 50 (2") | 230 | 315 | 410 | 25 |
| 65 (2.5") | 290 | 330 | 420 | 32 |
| 80 (3") | 310 | 350 | 470 | 39 |
| 100 (4") | 350 | 390 | 510 | 58 |
| 125 (5") | 400 | 420 | 560 | 70 |
| 150 (6") | 480 | 490 | 640 | 85 |